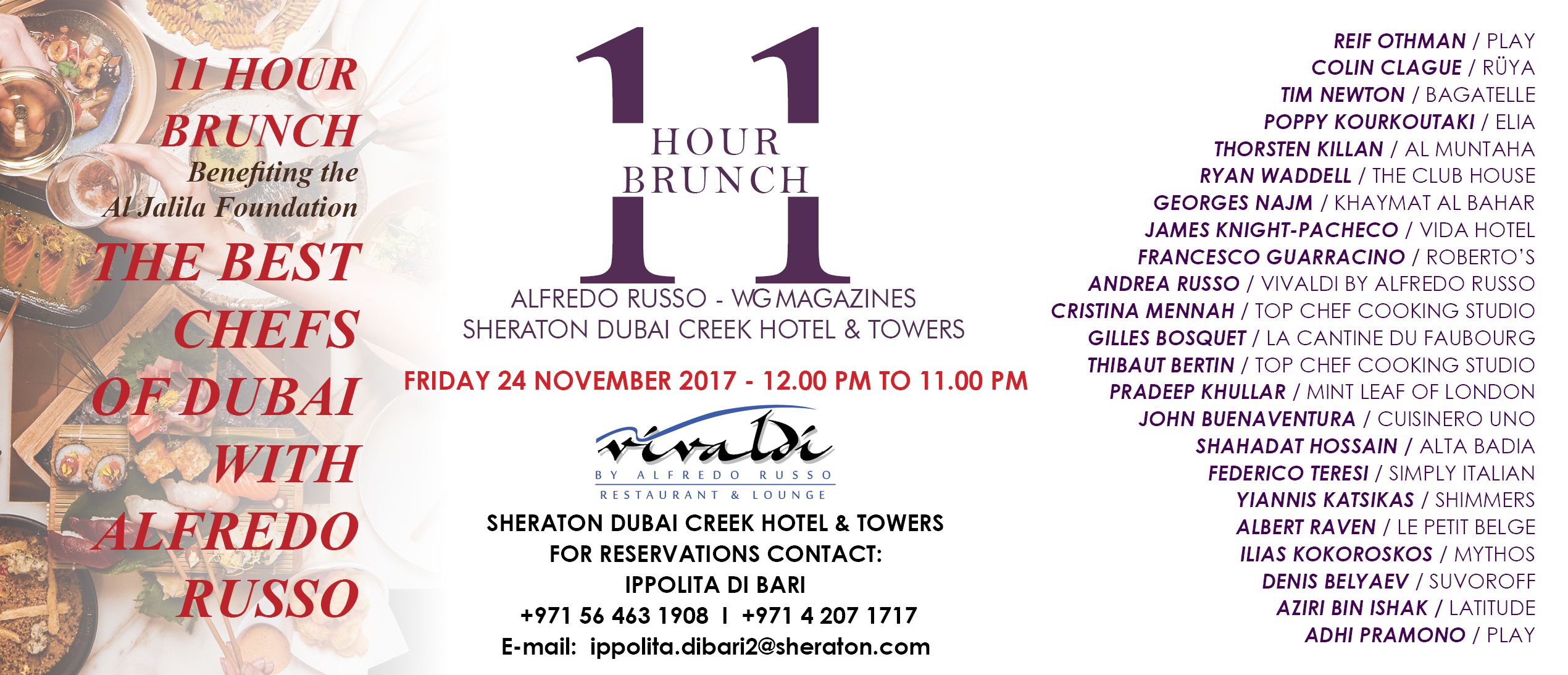 24th November 2017, Friday
12:00 PM - 11:00 PM
ONE MICHELIN STAR CHEF ALFREDO RUSSO
23 OF THE BEST CHEFS OF DUBAI
48 SIGNATURE DISHES…
24/11 will see a blend of 23 of The Best Chefs of Dubai with Alfredo Russo.
Vivaldi by Alfredo Russo will be the stage of this 11 hour culinary experience which is brought by Michelin Star Chef Alfredo Russo, WG Magazine and Sheraton Dubai Creek Hotel & Towers.
Benefiting the Al Jalila Foundation, all culinary proceeds will be donated to the Al Jalila Foundation, a not-for-profit organization founded by His Highness Sheikh Mohammed Bin Rashid Al Maktoum, Vice-President and Prime Minister of the United Arab Emirates and Ruler of Dubai.
4 hours soft package AED 320 per person / house beverage package AED 450 per person
All day brunch soft package AED 500 per person / house beverage package AED 800 per person
Kids will be complimentary from 0 to 6 years old / Kids 6 years old above AED 160
The Chefs…
Alfredo Russo of Dolce Stil Novo
Reif Othman of The Experience by Reif Othman of PLAY Restaurant & Lounge
Colin Clague of Rüya
Tim Newton of Bagatelle
Poppy Kourkoutaki of Elia - Majestic Tower
Thorsten Killan of Al Muntaha - Burj Al Arab
Ryan Waddell from The Club House – Jebel Ali Recreation Club
Georges Najm of Khaymat Al Bahar – Mina Salam Madinat Jumeirah
James Knight-Pacheco of Vida Hotel
Francesco Guarracino of Roberto's
Andrea Russo of Vivaldi by Alfredo Russo
Cristina Mennah from Top Chef Cooking Studio
Gilles Bosquet of La Cantine Du Faubourg
Pradeep Khullar of Mint Leaf of London
Shahadat Hossain of Alta Badia – Emirates Towers Hotel
Thibaut Bertin from top Chef Cooking Studio
John Buenaventura of Cuisinero Uno
Federico Teresi of Simply Italian by Heinz Beck
Yiannis Katsikas of Shimmers – Al Qasar Hotel Madinat Jumeirah
Albert Raven from La Petit Belge
Ilias Kokoroskos of Mytos
Denis Belyaev of Suvoroff
Aziri Bin Ishak of Latitude – Jumeirah Beach Hotel
Adhi Pramono of The Experience by Reif Othman and PLAY Restaurant & Lounge